Messages from Home: Sponsored Letter Writing Campaign
Many people underestimate the impact of sending a written message rather than a text or email. As parent and family program professionals, we are well aware that a card or package from home can change the course of a student's day, week, or even semester.
There's something special about holding a card in your hand and reading the message written in a loved one's handwriting. It only takes a few minutes, but a hand-written message can have a lasting impact on the recipient.
UPIKE and IUPUI encourage families of first-year students to take a few minutes to write a letter to their student during summer orientation. With a similar concept, put in place at two different campuses, each program facilitates this activity a bit differently. Check out the step-by-step processes below and comment with your input!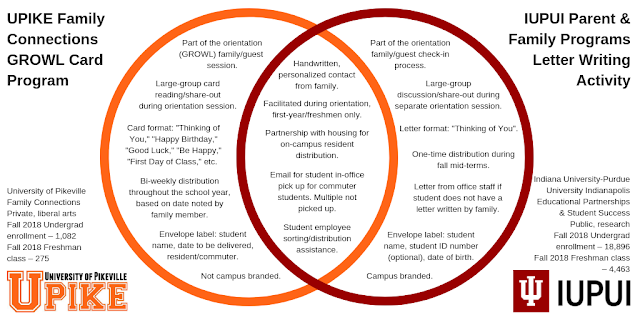 UPIKE Step-by-Step Process
By Stephanie Stiltner ([email protected])

Families are invited to write notes to their students throughout the academic year. We include a list of suggested dates and information to include on the envelope on the card station.

As time allows during our Gathering for Registration, Orientation, Welcome, and Leadership (GROWL) sessions, we give the microphone to a few family members to share their message to their student with the group. I ask for volunteers and observe the audience to see who may be interested. Some sessions no one is interested in sharing, but some have a great response where everyone laughs and tears up together.

Campus mailboxes are available on campus but not all students utilize them. Very few commuter students request a campus mailbox.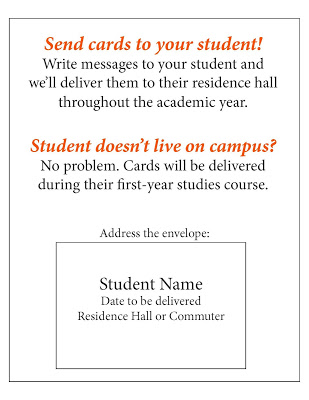 Delivery: 
Resident Students
Family Connections Federal Work Study students sort cards by date, residence hall, and residence hall floor.
Residence Life shares an Excel file with a list of residential students and their residence hall room number.
Each week, the Family Connections work study student delivers the next week's sorted cards to Residence Life. We try to make the process as simple as possible for the Residence Life and Resident Assistants (RA).
RAs deliver to students on their floor based on the date specified on the card.
Commuter Students
Since the "First Day of Class" cards are popular, we sort by First-Year Seminar (FYS) section and deliver for FYS faculty to share with students during class. In 2018, we delivered more than 200 cards during the first few weeks of classes.
For the remainder of the academic year, we email commuter students to let them know that they have mail from home and they can pick up their card from the Student Success/First-Year Advising Office.
This year, we will include labels on the envelopes since not all cards included all of the information requested.
 Student Name ___________________
 Date to be Delivered ______________
 Circle one:   Resident      Commuter
Tip: Advise families to refrain from including cash in the cards.

IUPUI step-by-Step Process
By Erin Detweiler ([email protected])

During the parent/family/guest check-in process of orientation, families:
Receive family resource packet with a greeting and verbal description of the orientation schedule. 
Are verbally invited to write a letter on the stationary provided to be distributed to their student during fall semester midterms – packets of tissues with the Parent & Family Programs lockup are also distributed.
Sit down at coffee shop tables with other family members to write their letter. You will need:
Thinking of you stationary
Ink pens
Envelopes with labels
Student Name: ________________
Student Date of Birth: __/__/_____
Student ID # (optional): _________
Then:
Drop their completed letter (in envelope with completed label) in an IUPUI bag.

Sign up for the IUPUI Jaguar Family Association eNewsletter at a laptop station.
During the letter writing activity, there are often family members who tear-up or discuss the activity and build community with other family members. We encourage this and have a few student leaders floating around to greet families and share in conversation.

On Day 2 of the orientation program, we facilitate a session for parents, family members, and supporters who attend the orientation with their student. Much of this session focuses on family transition and includes multiple opportunities for families to contribute to the discussion (utilizing orientation leaders as "mic runners") based on a prompt. Family members are also encouraged to share at their tables.

All students receive an email message telling them they have mail from their family, and to pick it up in our office suite within the Campus Center (our student union building). These messages are sent in early/mid-October. Our first-year class is split nearly 50-50 for on-campus/off-campus living, which provides barriers in successfully distributing letters to students.

Student Transition Specialists (student employees) in our office document label information on an Excel sheet following each orientation check-in, alphabetize the letters by last name, and assist with the distribution/pick-up of letters in October-November.

At times, a student who does not have a letter handwritten from a family member will come in and ask for us to look and see if they have a letter. We will look through our letters as a curtesy, though they didn't receive an email. In many cases, their family member didn't come to orientation with them or opted out of the activity. In these scenarios, we share a letter with the student written from our office.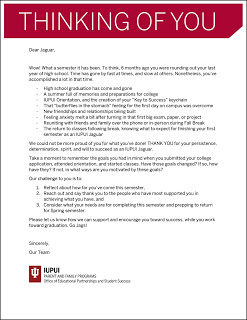 After a second reminder email in November, letters still remaining in our office are re-sorted and a list is sent to Housing and Residence Life. They share what students reside on campus, with their community building. We sort and deliver the letters to the community front desks for distribution to residents. A "last call" reminder email is sent to students with letters still remaining in our office. Multiple letters remain by the end of the fall semester. These are stored long-term in our office.
Share this post: