Kitchen Away From Home: Cookbook
Last spring, my student employee and I were chatting about potential parent engagement ideas. I mentioned that I thought it would be fun to create a cookbook for parents, but brushed it off as something we could think about later. The idea, however, resonated with my student, and by the next day, she had sent me a list of recipe categories and a marketing plan for our cookbooks.
The purpose of the cookbook was to help RIT students learn their way around the kitchen with recipes and tips submitted by their parents. We requested recipes for six categories:
Dorm Room Delights: Recipes that can be made with few ingredients, either in dorm rooms or using a microwave in the kitchen. 
Dinners for Beginners: Full dinner recipes that are easy to make-a challenging ingredient here or there to help students learn their way around a kitchen.
Snack Attack: Healthy and easy to make snacks that will help students skip the vending machine. Items that can be made in bulk are particularly exciting!
"I don't have class until 2 p.m.!":Delicious breakfast ideas for students with a little extra time in the morning.
The Freshman 15: Scrumptious snacks and desserts for students who aren't too worried about gaining those famous 15 pounds during their college experience.
Parents to Parents: Your place to include the recipes that you love but that might be a little bit more challenging to create. These recipes are for home cooks who have a little bit more skill-or brave student chefs!
We solicited for recipes on Facebook and in the RIT Parent Newsletter from July until September. In that time, we collected approximately 40 recipes from parents across all categories. The order form opened in November, and the Kitchen Away from Home cookbooks were ready for pick-up/delivery in early December, just in time for the holiday season! 
One goal was to keep the cost as low as possible so we could round up and give all proceeds to the RIT FoodShare Center. Our FoodShare is a campus program that combats food insecurity on campus by allowing members of the RIT community access to non-perishable items and leftover food from campus events. It was a perfect match for our cookbook project! We were able to charge only $8 per cookbook and, in the end, donated $500 to the FoodShare.
This was a fun, low-cost project that allowed us to engage parents in a unique activity and support students in one of the many skills they learn during young adulthood. It took a fair amount of time, but was a great project that I am very proud of!
Tips
Create recipe categories. Not only will this help with the organization and design of the cookbook, but it is easier for parents to think of recipes when they have guidelines.
Collect "campus celebrity" recipes. We included recipes from the Provost, the Senior VP of Student Affairs, the President's wife, and myself.
Think about timing. It was great to have the cookbooks available just before the holiday season!
Include campus partners. While we weren't able to give much to the RIT FoodShare, strengthening this partnership was valuable. This was also a great opportunity to promote a campus resource to our families.
Use resources available to you. We designed the inside pages, but our Student Affairs Marketing and Communications team designed the cover page in order to give it a more professional look.
Make it personal. My student and I shared our "beginner chef" stories to help explain why we developed the cookbook. It added a personal touch to the project—for us and for families!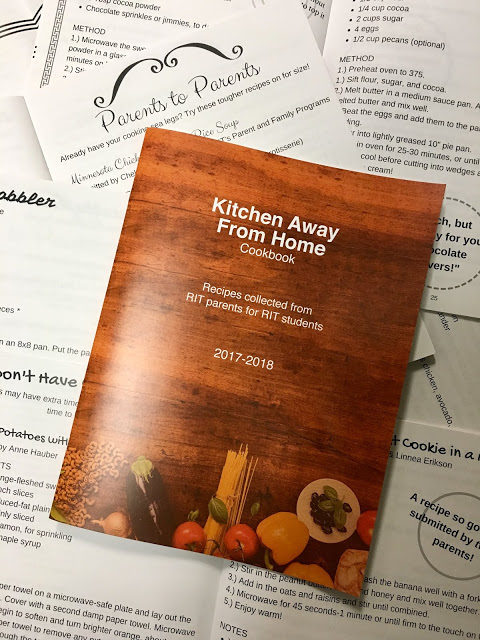 Share this post: