Move-In Parent Volunteers
Each fall, our institutions move in thousands of eager freshman students to our campus residence halls. At Appalachian State University, over 2,000 first-year students move in on the Friday before classes start. Emotions run high, traffic moves slow and, somehow, rain always threatens the weather forecast! To give our new students and their families extra support during this rite-of-passage, parent volunteers help by unloading cars and moving students' belongings into their residence halls.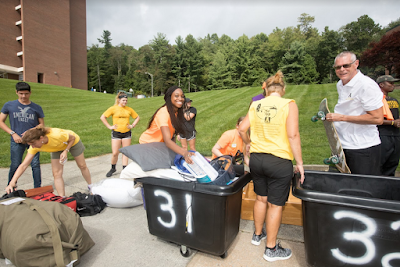 Throughout our summer Parent Orientation sessions, we recruit parent volunteers to help with move-in. Parents of incoming freshman can register to work a 3-hour shift at a residence hall. In exchange for the parent's "sweat equity," their student is allowed to move into the residence hall 1 day early, at their leisure, free of charge. This not only gives the volunteer family more time to settle into their residence hall without the chaos of move-in day, but also helps thin the crowd on the actual move-in day, since hundreds of students are already settled in.
Our Parent Board Vice Presidents coordinate the move-in volunteer assignment process each year. I provide them with a list of registered parent volunteers, and they make assignments and share day-of information with all volunteers. A list of all students with parent volunteers is provided to University Housing, and those students are placed on an early-arrival list. If a parent no-shows for their volunteer shift, a $50 fine is applied to their student's housing bill (though surprisingly, this rarely happens!)
Our 60-person Parent Board divides into teams and serves as volunteer captains at each residence hall. They coordinate an efficient drop-off process, lead the volunteers through their duties, and offer a sympathetic ear to our newest family members. The process usually goes something like this:
Incoming parent registers as a move-in volunteer sometime over the summer.
Parent Board Vice Presidents make shift assignments and coordinate responsibilities and expectations with volunteers.
Volunteers move their own student into residence hall 1 day early (Thursday).
Move-in Day (Friday)

Volunteers receive a "move-in volunteer" t-shirt when checking in for their shift, and head to their assigned residence hall.
As new students arrive to their residence hall, all belongings must be clearly labeled with their name and room number (parent volunteers will label on-site, if things were missed).
The student arrives with their belongings, and within minutes, parent volunteers unload the entire carload onto sidewalk in front of residence hall.
Student's parent immediately moves car to satellite parking lot and takes a shuttle back to residence hall (no parking at residence hall, to keep traffic moving!)
Student stays with belongings and checks in to residence hall to receive room key.
Meanwhile, parent volunteers quickly move all belongings to student's room. By the time the family is back from parking their car, everything is in the student's room ready to be unpacked!
Each year, we see about 350-400 parent volunteers. The energy is great, and they love connecting with both current and incoming Appalachian parents. Our Parent Board members use this opportunity to recruit new board members, and make meaningful connections with incoming families. We consistently receive positive feedback from incoming parents about the wonderful support and efficiency they experience in this process. By removing the stress of the actual move-in labor, new parents are able to simply focus on settling their student into their room and joining the Appalachian Family. 
Share this post: