As all of us in AHEPPP are aware, it's been a difficult 12+ months for the families we work with. They feel for their students who have not had the college experience they imagined. They've likely dealt with disruptions to their own work and home lives, and some undoubtedly faced health implications of COVID. 
Johnson & Wales University's Providence Campus Parent & Family Relations office set out to help families, and students, smile with two special projects this year. The first centered on Valentine's Day and the second was for Commencement.
In late March, we invited students to surprise their loved ones with a Wildcat Valentine. One of our student employees (a graphic design major) designed four templates, each with a different greeting. Students completed an online form that allowed them to select a template, personalize their "to" and "from" lines, add a photo, and provide email information for the recipients. From there, our office created the valentines, emailed them, and shared some on social media. 
As Commencement approached, it was our families' turn to surprise their students. We invited them to submit two photos of their student – one baby and one current – and a short congratulatory message for a personalized Wildcat Grad announcement. We shared the announcements during a Senior Week "Cheers to our Seniors" virtual event and on social media.
We hoped for decent participation levels with both projects. For the valentines – the first time we relied on students taking action with something like this – we were thrilled to share more than 70. And families responded in a big way – more than 260 seniors recently received a Wildcat Grad announcement. 
During the Cheers to our Seniors virtual event, families' smiles and occasional tears couldn't be missed. We also received some social media comments on both projects:
"Thanks for doing this! Made my day just a little bit sweeter."
"It was a great surprise when we got one."
"I loved getting ours. Made me smile." 
"Love this! Thank you for putting together this tribute to the seniors!"
"Yay. It came out great!"
We are happy so many families felt the love from their students thanks to a Wildcat Valentine, and graduates experienced the same with their Wildcat Grad announcements. A good amount of organization and preparation were required to execute these campaigns, and the projects definitely achieved their goal of generating lots of smiles.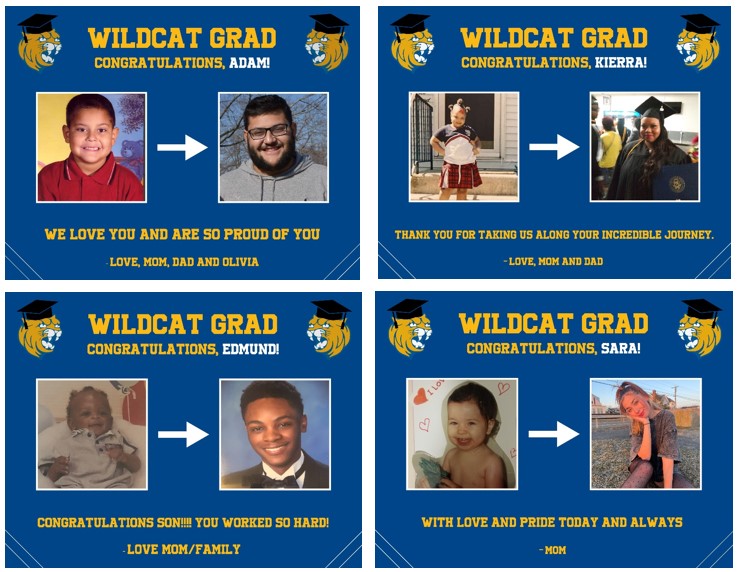 Sandy Cardoza is the Associate Director of Parent & Family Relations at Johnson & Wales University
Share this post: